Book List
Disclaimer:
The following books and articles have been recommended by one or more members of the Air America Association. The Association does not endorse these books or articles in any manner whatsoever and is not responsible for their content.  The opinions and facts expressed by the authors are theirs alone.  Any person who approves, disagrees, or finds fault with the content of the following books or articles should address their views to the authors. 
---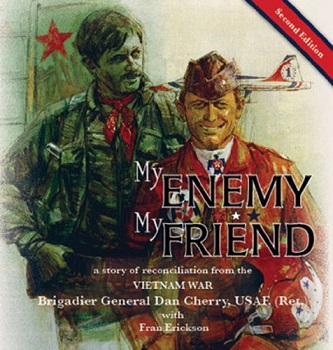 My Enemy My Friend: A story of reconciliation from the Vietnam War by Dan Cherry
On April 16, 1972 at 15,000 feet in the skies near Hanoi, North Vietnam, Major Dan Cherry and Lieutenant Nguyen Hong My met for the first time in mortal combat. In an intense five minute aerial battle, Dan, flying his F-4 Phantom II, shot down the MiG-21 piloted by Hong My. Major Cherry returned safely to his base, however, Lieutenant Hong My was severely injured during the ejection from his burning aircraft. Thirty-six years later Dan Cherry and Hong My met face to face in Ho Chi Minh City (Saigon), Vietnam for the first time since that fateful day. In many ways this is a war story but more than that, it is a powerful story of healing, closure, forgiveness, friendship and reconciliation.
---
Full Circle by Allen Cates
Acadian heritage and his father's watchful eye nurtured Brian Vincent's upbringing in the swamps and bayous of south Louisiana, where hunting and fishing were commonplace, and integrity and diligence were more than spoken virtues. Brian was a quick learner and an avid reader, and stories of love and war where warriors prevailed against formidable odds piqued his inquisitive mind. However, along with his strength of character came a degree of stubbornness. His family wanted him to be an attorney or a businessman carrying on the family tradition, but Brian wanted to test his mettle on the field of battle. Marine Corps Aviation offered the path he was seeking, and the war in Southeast Asia provided the catalyst where innocent people were willing to die for freedom against an oppressor who killed anyone who tried to stop them. Against his family's wishes, he entered the fray altruistically and unpretentiously. But Brian found military regimentation did not fit his persona. Still, the adrenaline rush while dancing with the devil was alluring, and Air America offered another path with a twist. Flying in primitive conditions where death lurked unexpectedly like a hidden pit viper was daunting. The psychic income from saving lives and accomplishing the mission with his initiative drew him further into an abyss. Seeing first-hand daily collateral damage without reason coupled with a naive approach to affairs of the heart took its toll. Brian made the full circle and returned to his roots, broken in body and spirit. Now, he has to come to grips with the realization that people and governments are often devious, that life is not always fair, and he has begun to question the purpose of living in a complicated world.
To find out more or purchase please visit: http://www.allencatesbooks.com/
---
E-Book by Dr. Joe Leeker
Dr. Leeker's information about his 2 e-books. Leeker E-Books
---
Distant War:
A freelance journalist's observations and recollections of Southeast Asia, in the decades following the Vietnam War. Part exploratory journalism and part unofficial history, Distant War combines photographs, interviews, and personal insights from people on both sides of the conflict to reveal a side of Vietnam, Laos, and Cambodia that few Americans have ever seen. Marc Yablonka pulls back the curtain on a region struggling to understand its past and determine the course of its future.
Buy Distant War from Amazon.com  (Paperback)
Buy Distant War from Amazon.com  (Kindle)

---
Hog's Exit, Jerry Daniels, the Hmong, and the Cia by Gayle L. Morrison
"This book examines the unique personality and reported death of a man who was a pivotal agent in U.S./Hmong history. Friends and family share their memories of Daniels growing up in Montana, cheating death in Laos, and carousing in the bars and brothels of Thailand. First-person accounts from Americans and Hmong, ranchers and refugees, State Department officials, and smokejumpers capture both human and historical stories about the life of this dedicated and irreverent individual and offer speculation on the unsettling circumstances of his death. Equally important, Hog's Exit is the first complete account in English to document the drama and beauty ofthe Hmong funeral process.
Hog's Exit provides a fascinating view of a man and the two very different cultures in which he lived."
Page from the publisher's catalog. 
---
---
Honor Denied by Allen Cates
     Air America flight crews, hired as civilians, but castigated as mercenaries, malcontents, and psychopaths, operated military aircraft and performed yeoman service for twenty-five years until the war in Southeast Asia ended on a rooftop in downtown Saigon. They have never been recognized for their sacrifices. Author and former Air America pilot Allen Cates cuts through the myths and subterfuge surrounding this elite stealth Air Force used by the United States to fight a secret war in Honor Denied. The culmination of Cates's years as a pilot and his in-depth research into Air America's murky past, this intense study follows his escape from rural, small-town America to the US Marines, as well as his time as an officer and pilot flying combat operations in Vietnam and rescue missions for Air America. Peppering the narrative with vivid personal details, Cates describes the background and purpose of this unique organization and then discloses the startling casualties-both those killed in action and those wounded and injured with permanent disability. He shines the light on their cause, long hidden from the general public, and reveals how these brave men and women were denied recognition and benefits by those who knew the truth, including the US President, secretaries of state and defense, and even the director of the CIA. Proud, yet never boastful, Honor Denied tells a story that needs to be told-and heard.
To purchase, please visit Amazon or Barnes & Noble or www.honor-denied.com

---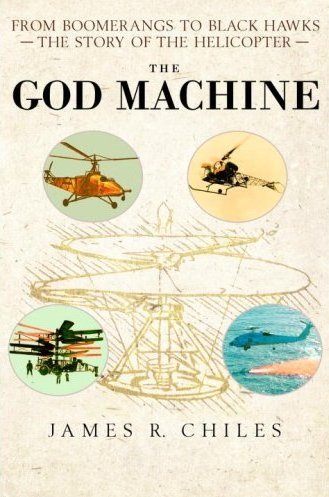 A message from Link Luckett:  "There is a book out now in paperback called The God Machine.  Please see the web site about this book here:  http://www.thegodmachine.us/
The book makes frequent mention of me and my flying career before Viet Nam. Its good reading in general and should be widely available since now in paperback.  Best regards to all, Link"
---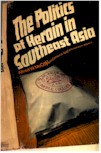 Book Review of Alfred McCoy's The Politics of Heroin in Southeast Asia by James Quigley
---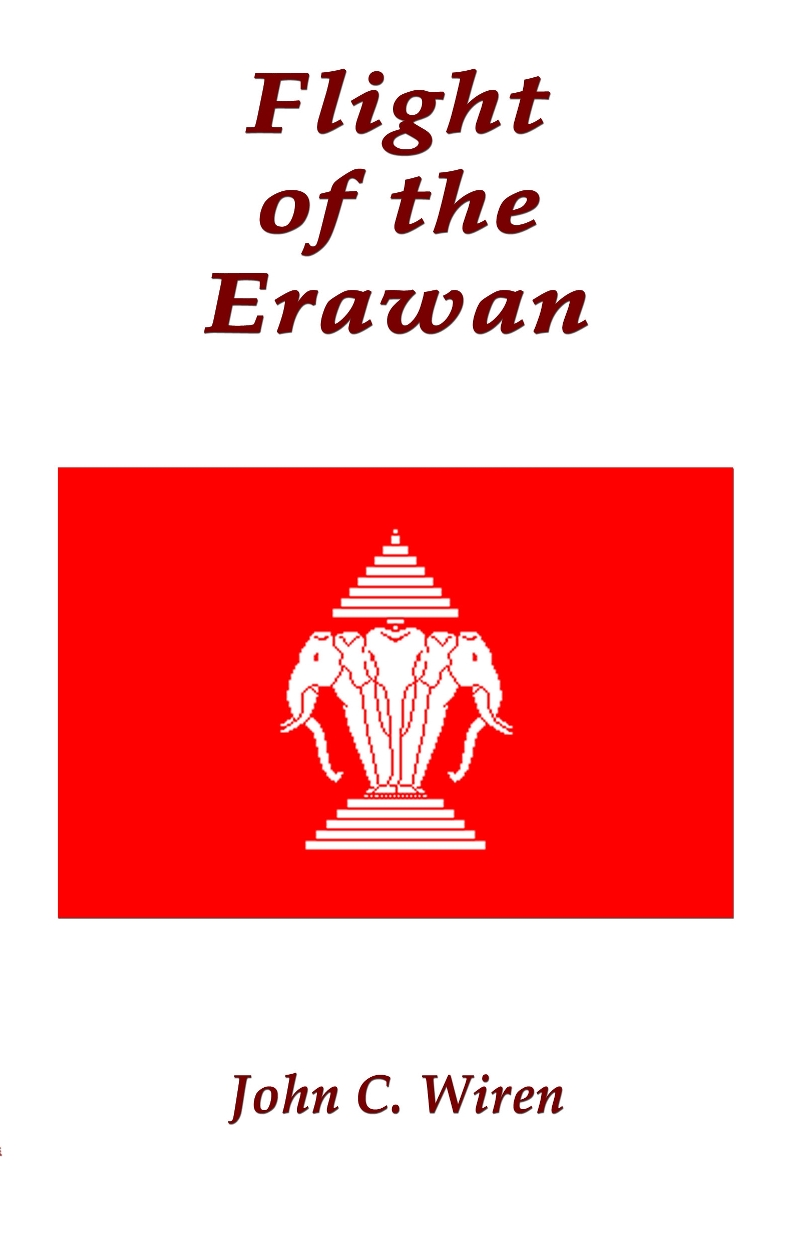 Flight of the Erawan
John Wiren was born in Fort Dodge, Iowa and raised in Omaha, Nebraska. A graduate of Omaha south high he earned nine athletic letters in football, basketball, baseball and track. He played two years of professional baseball before entering the military service as a naval aviation cadet. Upon graduation, he was commissioned in the United States Marine Corps and served a total of four and one-half years on active duty, followed by service in reserve squadron at Olathe, Kansas while returning to the University of Omaha to complete his education. He later served with the secret service in Dallas, Texas prior to his involvement with Air America in Southeast Asia.  He holds a BA in foreign trade.
Following his service with Air America, he flew for Inter-Mountain aviation on the North Slope of Alaska, Royal Air Lao, Global Associates on Kwajalein Island, Aero Union (fire fighter), Dominicana Airlines, Air Yemen, Singapore Airlines, for the Saudi intelligence as chief pilot, personal pilot for the Lebanese Prime Minister Rafik Hariri, personal pilot for Prince Walid bin Talah. He ended his aviation career with the Federal Aviation Administration, first as an aviation safety inspector and then as an instructor at the FAA academy in Oklahoma City.  Following his retirement, he now resides with his wife, Carolyn, in Mountain Home, Arkansas.
---
Spies in the Himalayas
On October 16, 1964 China tested a nuclear weapon in Xinjiang. Other channels of spying could yield only limited information. The book Spies in the Himalayas by MS Kohli and Kenneth Conboy is the account of the joint RAW-CIA efforts to place a permanent electronic intelligence (Elint) device powered by a nuclear fuel cell, a device that could detect and report data on future nuclear tests. The first attempt to place such a device on the Nanda Devi, under the cover of a mountaineering expedition failed as the team had to retreat in the face of adverse conditions after having hauled the device to just short of the peak. When another Kohli led expedition returned the following year to recover the device, it was found to be missing....
Visit here for more information
---

NAM-A-RAMA: A Novel
Phillip Jennings is a decorated Marine Corps Captain who served three years in Vietnam and Laos, including flying for Air America, and then worked for the CIA. Like Heller and Hooker, he did his duty, but he did it with his eyes open. Now, transformed by his wild imagination, he shows us what he saw. Never before has the insanity of the Vietnam war been so scathingly and entertainingly depicted.
---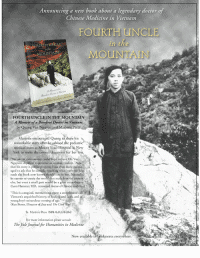 Fourth Uncle in the Mountain: A Memoir of a Barefoot Doctor in Vietnam has already received acclaim in the academic world, from documentary film director Ken Burns, from the renowned Dr. Leon Hammer in the filed of Asian Traditional Medicine, from Cornell University Professor of Vietnamese Cultural Studies Keith Taylor, and The Yale Journal for Humanities in Medicine.
---
A Look over My Shoulder: A Life in the CIA by Richard Helms and William Hood

Hugh Tovar advises that Dick Helms' newly published book entitled, "A Look Over My Shoulder," (Random House) is a "must" for everyone who served in Laos.  Hugh notes that it will reinforce the conviction that most of us have always had - namely, that it was a privilege as well as a pleasure to have worked for that man.
---
A Predator on Our Streets by Oren (O.B.) Harnage 
To preview the book and contents go to www.trafford.com and click on Bookstore and then on Search desk.  I think you will enjoy reading the 235 pages of intrigue and dangers of the narcotic undercover agent.  I can supply signed copies at the purchase price of $19.95 USD.  I will defray S&H.  Sorry no credit cards. Please contact me at verticleairlift@theriver.com if you are interested in signed copies.
---
A THOUSAND FACES
By: O. B. Harnage
This book is a memorial to the many agents who have and are performing duties in foreign lands, offering their lives if necessary for the preservation of humane and free lives for the world, and to those who have given their lives for these ideals. I also want to place Air America in the proper prospective as a dedicated airline operating in support of humane actions of the CIA, and to take away the untrue rumors that it was used as an airline to transport narcotics. Nothing could be further from the truth. It leans toward my relationship with Air America and the last days of the fall of Saigon, and covers my time in Danang & Saigon. This book is published by an "on demand" publisher, Trafford Publishing. Copies are printed as requests are received. The book is marketed for $14.95 per copy plus $4.64 for shipping and handling.  To order, call toll free 1-866-752-6820 or click on the link below.  You can also learn more about this book at their website:  Trafford Publishing Online.
---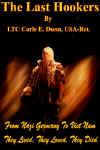 The Last Hookers, by LTC Carle E. Dunn, USA-Ret
A message from the author to the members of the Air America Association:  "It is my desire that your members know that I held Air America in high regard. I also want them to read what I wrote". Interested parties can contact me from your organization to receive a few books at a considerable discount. I am doing this to let you know that I did not let you down as I said during my research. You can reach me through email or at my official web site."  This book is also available through Amazon.com and Barnes & Noble.com.
---
 Across the Mekong by Charles O. Davis.
Charlie provides a deeply personal view of his life as an Air America pilot. Order direct from Charlie for $28 including shipping. PO Box 19031 - Alexandria, VA 22320
---
Air America (motion picture review). Time, v. 136 (Sept. 10 1990): 82. "Director Roger Spottiswoode's Air America has been criticized for its distorted portrayal of historic events. Air America, the CIA-run airline that brought arms and supplies to anti-Communist forces in Indochina during the Vietnam War, is depicted in the movie as a front for heroin smuggling condoned by the CIA as a way of funding America's secret war in Laos. According to articles in the New York Times and the Wall Street Journal, this version of the events is a disservice to the real-life pilots of Air America and to the historical record. Air America screenwriter John Eskow argues that the film is not a documentary and doesn't advertise itself that way. Films help shape people's view of history, however, and the distortion of sensitive issues cannot be justified by calling it creative."  
---
Air America (Revision).       Christopher Robbins. Asia Books - Link to Supplier http://www.asiabooks-thailand.com/newasiabooksonline/NewsArr/newsarr.asp
---
Air America.       Christopher Robbins. Avon Books - 1790 Broadway - New York, NY 10019. http://www.dcothai.com/books/airamerica.htm 

---
Air America' Flies into Pilots' Flak. Diana West. Insight, v.6, n. 37, (September 10, 1990): 60-61.       "A number of pilots who flew missions in Southeast Asia during the Vietnam War era are disgruntled with "Air America," a comedy film that is depicting pilots from that era as frequently running drugs.         Pilots say the movie is not an accurate portrayal."
---
Air America Replays the CIA's War in Laos. Christopher Robbins. Robbins supplies the history the film leaves out." Vogue, v. 180 (Aug. 1990): 216+. "Director Roger Spottiswoode's film Air America is overblown and historically inaccurate. The script concerns American servicemen in Laos during the CIA's secret war there. It presents a muddled conspiracy theory that implies that the war was fought to gain control of the country's poppy fields. The film's attempt to make a comedy out of the war is objectionable, particularly when one considers the realities of the war that are not presented by the film."
---
Air America The Story of the CIA's Secret Airlines.       Christopher Robbins. (Hardback) Printed in 1979 by G.P. Putnam's Sons - 200 Madison Avenue - New York, NY 10016.
---
Air America: Flying the U.S. into Laos.       Peter Dale Scott. Ramparts, Feb. 1970.
---
The Aircraft of Air America, 5th edition of 4 March 2013, by Dr. Joe F. Leeker. http://www.utdallas.edu/library/specialcollections/hac/cataam/Leeker/aircraft/index.html

---
Air Commando One: Heinie Aderholt and America's Secret Air Wars.       Warren A. Trest. Brigadier General Harry C. "Heinie" Aderholt worked at the heart of both USAF and CIA special operations worldwide. In 1964 he became commander of the famed First Air Commando Wing, fighting to build up special operations capabilities for both American and South Vietnamese airmen. In 1966-67 he and his men set the record for interdicting the flow of enemy trucks over the Ho Chi Minh Trail in Laos and North Vietnam. This first biography of Heinie Aderholt, "Air Commando One" tells the story of a renowned leader of counterinsurgency operations. The book also integrates USAF and CIA accounts of some of the most pivotal events of the past fifty years. The book will be available sometime in May and can be ordered from BG Aderholt, 25 Miracle Strip Parkway SE, Ft. Walton Beach, FL 32548. Tel. (850) 243-0442, Fax (850) 243-3568, email - heinieac@gnt.net. $31.00 includes postage and handling. Cash or money order only.
---
At War in the Shadow of Vietnam: United States Military Aid to the Royal Lao Government, 1955-75.         Timothy N. Castle. Columbia University Press. $47.50 Paper back versions are available for $16.00. To order call 1-800-944-8648.
---
Baret Jingga: The First Airborne Force in Indonesia.  Ken Conboy.(English language tranlation), Gramedia, 2000.
---
Barley & Kohlrabi.       Steve Wurtz. This is the story of Steve's experiences as a POW in Germany.       No price or ordering information available but you can contact Steve at 14623 Trading Post Rd. - Sun City West, AZ - 85375
---
China Hands.  James Lilley with Jeffery Lilley.  Public Affairs 417 pages.  $30.00.  This is the memoirs of a covert agent and diplomat in the Far East from the 1950's through the Vietnam War.  This book was reviewed in the Wall Street Journal May 6, 2004. 
---
China Pilot.       Felix Smith. Felix became one of the first pilots of CAT, the story is about fearless pilots such as the legendary James "Earthquake Magoon" McGovern, killed flying supplies to the French forces at Dien Bein Phu. It is about determined women such as Sue Buol, who fought five years to force the communist Chinese to release her pilot husband, only to see him die eight months after his release. For an autographed copy send $24.95 plus $3 shipping to: Felix Smith - 12600 W. Prospect Dr. New Berlin, WI 53151.
---
The CIA's Secret War in Tibet. Ken Conboy. University Press Kansas, 2002.
---
Classified Secret: Controlling Air Strikes in the Clandestine War in Laos.       Jan Churchill. Well illustrated with many good photos and contains many individual stories. It deals with the air war in Laos, featuring Air America, CASI, and the usual set of main players (Pop, Tony, Lair, etc). $30.00 postage included. Order from Jan Churchill, POB 32, New Castle, DE 19720. Tel. (302)325-2718 or email - janfly02@aol.com.
---
Code Name Mule: Fighting the Secret War in Laos for the CIA.         James E. Parker, Jr. The story covers Jim Parkers role in the Laotian War as an agency case officer. The book covers a five year time frame. $27.95 plus $4 shipping. River Kwai Collection - Box 9 - Pinehurst, NC 28370 - Fax 910-295-8909
---
Commandos and Spies:  How America Lost the Secret War in North Vietnam. Ken Conboy. University Press Kansas, 2000.
---
Elite Forces of India and Pakistan. Ken Conboy. Osprey Press, 1992.

---
Feet to the Fire: CIA Covert Operations in Indonesia 1957-58.       Ken Conby & James Morrison. The first detailed story of the Eisenhower administration's operation to unseat the left-leaning Sukarno government. The book is a veritable case study of all the intricate aspects of the program. CAT/Air America readers should find the air portions particularly interesting. That effort includes focus on the American and Polish crews flying arms and supply drops as well as attack strikes; the Filipino P-51 Mustang pilots; and the involvement of the Chinese Nationalist civilian and military aircrews. Naval Institute Press - ISBN 1-55750-193-9, $28.95 Available after November 16, 1999. Telephone (410) 268-6110.
---
Flying Tiger Joe's Adventure Story Cookbook. Joe Rosbert. This is an autobiography with great recipes.  The cookbook may be ordered direct from Joe for $21.45 including postage. 22022 Cimarron Pky.  Apt. 1080, Katy, TX  77450-3438.
---
Full Throttle. John Deakin. Tells his stories from flying goods back and forth to Central America in a B-25 at the age of 19 to flying for Air America and later Japan Airlines, where he became the world's highest-time 747 Captain. LIMITED-TIME OFFER: Each copy of Full Throttle will be signed by John Deakin at no extra charge. Order your signed copy of this great book by calling  (888) 362-7123  
Chris and Walt Darran 351 Idyllwild Circle, Chico, CA 95928 Phone (530) 898-0792 Cell (530) 518-1437
---
Himalayan Rouge:   A Pilot's Odyssey.       Peter Gourtiere. Peter is an associate member of CAT, and this is his autobiography.       $34.95 including postage - Turner Publishing Co. - PO Box 3101 - Paducah, KY 42002-3101.
---
The History of Air America  2nd edition of 4 March 2013, by Dr. Joe Leeker.  http://www.utdallas.edu/library/specialcollections/hac/cataam/Leeker/history/index.php
---
Hollywood Goes to War. (Attacks on motion picture Air America) John Eskow. Esquire, v. 114 (Dec. 1990): 168-70.       "The writer and co-producer of Air America recount the controversy the film caused when it was released in August 1990. The New York Times and the Wall Street Journal printed allegations that the film was inaccurate in its depiction of the CIA's involvement with the opium trade in Laos during the Vietnam War. It was eventually discovered that Christopher Robbins's book Air America, on which the film was loosely based, had been revised to eliminate references to the CIA's drug involvement."
---
Honored & Betrayed.       Richard Secord. This book is still available in some bookstores. Published by John Wiley & Sons, Inc. ISBN 0-471-57328-0 $24.95.
---
Intel: Inside Indonesia's Intelligence Service. Ken Conboy. Equinox Press, 2003.
---
Kopassus: Inside Indonesia's Special Forces. Ken Conboy. Equinox Press, 2003.
---
Last Man Out.       James "Mule" Parker. On May 2, 1975, two days after the US Embassy in Saigon was evacuated, Jim was still in Vietnam, still at war. He was the last man evacuated. Autographed copies can be ordered from the above address for $23.95 plus $4 shipping.
---
Lost Over Laos: A True Story of Tragedy, Mystery, and Friendship by Richard Pyle and Horst Faas
---
A message from the author - Richard Pyle
Although I'm now based in New York, I keep up with events relating to the MIA search efforts in Southeast Asia. This stems from my own five years in Indochina (1968-73) as an AP field correspondent and Saigon bureau chief (1970-73).  Horst Faas, co-author of the book, is also of the AP and a two-time Pulitzer Prize winner for photography. The book is the story of four top Vietnam War photographers who were killed on 10 Feb 1971 in the shoot down of a South Vietnamese helicopter over the Ho Chi Minh Trail, just northeast of Tchepone, during the US-backed South Vietnamese invasion of Laos, Operation Lam Son 719. During the 1990s the long lost crash site was finally located (with some help from us) and Horst Faas and I were present when the site was excavated by a JTF-FA team in March 1998. While the book is about the photographers and is told in the context of how we covered the war, there are numerous references to Air America and the Laos situation during that amazing time.  Lost Over Laos was published in March 2003 was published in March 2003 by Da Capo Press, an imprint of Perseus Books Group, and has received favorable reviews from book trade publications and many newspapers. 
Please click on the below link for a review from Marc Yablonka, Military Affairs Correspondent & Press NCO - Calif. State Military Reserve that was printed in The Nation newspaper in Bangkok Thailand.
http://www.nationmultimedia.com/page.arcview.php3?clid=12&id=85629&usrsess=1
---
The North Vietnamese Army and Viet Cong. Ken Conboy. Osprey Press, 1991.

---
One Day Too Long - Top Secret Site 85 and the Bombing of North Vietnam.       Timothy N. Castle. A saga of courage, cover-up, and intrigue this book tells how, in a shocking betrayal of trust, for thirty years the U. S. Government has sought to hide the facts and now seeks to acquiesce to perfidious Vietnamese explanations for the disappearance of eleven good men.       Columbia University Press $24.95 Cloth. To order call 1-800-944-8648.
---
Out of Laos: A Story of War & Exodus.       Told in Photographs by Roger Warner. Order direct from Roger Warner - 171 Argilla Rd. - Ipswich, MA 01938 $20 plus $2 for shipping in the US.
---
Out There Beyond Beyond.       Edward W. Ulrich with Lany M. Lake.       The author served in the Army Air Corps during WWII as a flight instructor in the B-26 Martin. He worked with Air America for 14 years as Chief Pilot and Base Manager. Alliance Press $9.99 Postpaid in the USA from Captain Ed Ulrich - 145 Buhl Blvd. - Sharon, PA 16146. Tel. (724)347-2178 or Email ewulrich@infonline.net. Due out in May
---
Perilous Missions: Civil Air Transport and CIA covert operations in Asia.       William. Leary. This book  is out of print but you may order one from the used book section of amazon.com, or order a new paperback, with a new preface, from Smithsonian Institution Press for $29.19 including shipping.
---
Pioneer Aviator in China.       Max Springweiler. This book is about early aviation in China and the experiences of Max Springweiler. It provides the reader a better understanding of how CAT evolved and may represent a forward for all the other books about CAT and Air America in South East Asia.. This English translation is jointly published by the daughters of Max Springweiler, Jerry Fink and the Associations of CAT and Air America. The proceeds of this book go to the endowment fund for the Archives of CAT/Air America held at the University of Texas at Dallas. It was translated from German by Dr. Larry Sall. $30.00 CAT/AirAmerica Archives University of Texas at Dallas Richardson Texas 75083 sall@utdallas.edu.
---
Project Coldfeet.       William Leary. Availabe from Naval Institute Press. $27.95. Call 1-800-233-8764.
---
The Ravens. Christopher Robbins.  476 pp, 2000 Asia Books paperback. Friday 26 January 2001 Segments of the Book Review; by Bernard Trink the Bangkok Post. British journalist Christopher Robbins made an in-depth investigation of that secret war, penning Air America and then The Ravens under review. His extensive research includes interviews with numerous players, diaries, classified material and long bibliographies. United States presidents and ambassadors come and go, Washington's policies change, but the communists remained single-minded and focused in their determination to take over the country. The FAC's losses become unsustainable. One after another they are shot down, fall out of the sky in blinding fog because of fuel shortages or slam into mountains. After too many missions, many lost their wariness, feeling they were invincible. Perhaps the saddest part of The Ravens is the hostile reception the survivors were subjected to when they returned home. All were proud of having fought the good fight for their flag, and so were unprepared when friends and neighbors turned on them with a vengeance ("Baby killers!" etc). It's little wonder that some took to drink and became bitter. Through good photos, solid facts, and excellent quotes, Robbins reveals the secret. I wish I'd known a quarter-century earlier.  http://www.dcothai.com/books/ravens.htm
---
The Ravens of Long Tieng.       Ralph Wetterhahn. Air & Space Smithsonian, v.13, n.4, October 1998, 50-59. "During the Vietnam War, the air base at Long Tieng was the hub for Air America, Air Commando and Raven forward air control. A look at the biggest clandestine operation ever run by the CIA is presented."
---
Shadow War: The CIA's Secret War in Laos.       Kenneth Conboy with James Morrison. With the exception of books by Dr. Leary, Tim Castle, and Jane H. Merritt, there have been few books of substance written on Laos.   This is another one worth reading. Paladin Press - PO Box 1307- Boulder, CO 80306 $49.95.
---
Shadow Warrior: The CIA Hero of a Hundred Unknown Battles.       Felix I. Rodriguez & John Weisman.       This is the autobiography of Felix Rodriguez. (Note: Felix was one of our guest speakers at the San Diego reunion) Plublished by Simon & Schuster. $19.95
---
Shoot at the Moon.       Roger Warner. Order direct from Roger Warner - 171 Argilla Rd. - Ipswich, MA 01938
---
Sky Is Falling: An Oral History of the CIA's Evacuation of the Hmong from Laos. Gayle L. Morrison. The U.S. government had quietly pledged to General Vang Pao and the Hmong that the Americans would take care of them in the unlikely event that Laos fell. In May 1975, this promise was redeemed when the CIA generated an air evacuation that moved more than 2,500 Hmong officers, soldiers and family members out of their mountain-ringed airbase. $39.95 McFarland & Company, Inc., Publishers * Box 611, Jefferson, North Carolina 28640 336-246-4460 * FAX 336-246-5018 * Orders only 1-800-253-2187       http://www.mcfarlandpub.com
---
Southeast Asian Special Forces. Ken Conboy. Osprey Press, 1990.
---
Spies in the Himalayas. Ken Conboy. University Press of Kansas, 2003.
---
Sticky Situations (Stories of Childhood Adventures Abroad) by Leigh Platt Rogers
A unique collection of autobiographical stories of life overseas as the daughter of a CIA agent. Surviving eleven years of living in Europe and Southeast Asia, Leigh Rogers captures the reader�s attention with entertaining, witty and insightful accounts of the adventures and "sticky situations" she and her family experienced.  
Sticky Situations is available for $11.95 by ordering directly from the author. Also, for those wishing to contribute a small contribution to the Humane Society for the care and protection of animals, if you pay $12.00 for the book, the additional 5 cents per book sale will be a donation. 
The book will also be available for purchase through Amazon.com and Barnes and Noble.
---
Tragedy & Triumph: A Pilot's Life Through War & Peace.       James "Paladin" Fore & Larry Jacks.  
This is the story of Captain Jim Fore's career who logged over 37,000 hours spanning 43 years and 3 wars. Jim graduated from military flight school at 18 years of age, was assigned to the Mighty Eighth Air Force in Europe as a B17 pilot. Jim was shot down on his 28th mission and survived Buchenwald as a POW. After a short period flying in the States, Jim made his way to Shanghai and was hired directly by General Chennault, subject to passing a check ride with Capt. Erik Shilling. Later, Jim was  recruited by Dutch Brongersma to fly for BIRD AIR in Laos and suffered the discomfort of being shot down a second time up country in 1963. Later, Jim flew out of S. Vietnam & Thailand before heading up various operations in Africa. Jim has retired to Colorado Springs with his beautiful, globe trotting family.
To purchase this book for $26.95, contact Jim directly

---
Tragedy in Paradise: A Country Doctor at War in Laos. Charles Weldon M.D. The following is an excerpt of a review for the Bangkok Post by Alan Dawson: Charles Weldon has done us and the future a favor by writing his account of what surely was one of the most heroic, saddest wars of the 20th century. A legend in his prime during the height of the conflict in Laos, "Doc" Weldon paints a highly personal, sometimes emotional picture. It starts with Drs. Weldon and McReedy manipulating their way to the kingdom of a million elephants and ends with Dr. Weldon departing the country, alone, in tears. In between, he fought for aid money from skinflint Washington, he worked to establish a health system in a country which had nothing but a desire for one. He details his successes and failures. Asia Books ISBN 974-8237-38-9. Available in the U.S. by late December for approximately $18.00 plus shipping and handling. Contact: Tamarind Books, P. O. Box 49217, Greensboro, NC 27419, Tel. (336)852-1905 (Fax. (336)852-0750, Email:  or http://www.abebooks.com/home/tamarind/. It can also be ordered from http://www.dalleybookservice.simplenet.com. Tel. (540)382-8949. http://www.dcothai.com/books/tragedy.htm

---
Tragic Mountains: The Hmong, the Americans, and the Secret Wars for Laos, 1942-1992. Jane Hamilton Merritt. $29.95 from Indiana University Press.       (Note: This book was published in 1992 and may not be available.)
---
Vietnam. Joe Patrick. Oct. 1, 1998. v. 11, n. 3, p.10+ "Air America was the most famous, but it was only one of George Doole's several "spook" airline."
---
The War in Cambodia, 1970-1975.  Ken Conboy. Osprey Press, 1988.
---
The War in Laos, 1960-1975.  Ken Conboy. Osprey Press, 1989.
---
The War in Laos, 1954-1975.  Ken Conboy. Squadron Press, 1993.
---
Wings Of Air America.       Terry Love. It is basically a photograph book of all of the aircraft that was operated by Air America. It includes a small history of CAT and Air America. $19.95 ISBN number 0-7643-0619-7. The publisher is as follows: Schiffer Publishing Ltd. 4880 Lower Valley Road Atglen, Pennsylvania 19310 (610) 593-1777 (610) 593-2002 FAX E-Mail Schifferbk@aol.com. Terry M. Love 9415 West 178th Street Lakeville, Minnesota 55044-9605 (612) 435-6974 E-Mail Lluvplanes@aol.com